Dating

Dating online in New Zealand is easy, free, and safe. Have fun meeting others.

Are you a couple and seeking others to socialise with? Find an open minded single or another couple...

Are you into Bondage & Disclipline? Find a master, mistress, slave or submissive online. NZPe...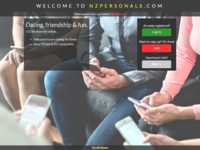 NZPersonals.com Kiwi singles & couples having fun! Online dating and personals in a safe environment...
Your Kiwi Sex Partner Rendezvous. Load your photo or text profile, describe yourself and what you a...
For sexually adventurous Kiwis of all lifestyles